An Unmatched Experience
See why practitioners are in love with AuM
---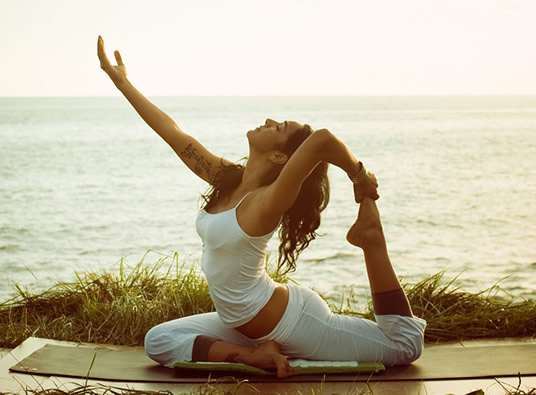 Passionate about eastern practices and heritage, we are reviving the true art form of Yoga, Meditation, and Tai Chi. We are proud to offer unique programs that honor these modalities in the way they were meant to be practiced. Breaking from the western gym-trends, we've gone back to the basics, to rediscover the true art & practice originating from China and India; and invite you to join us. Come see the difference when these ancient modalities of balanced living are offered from an eastern wellness center founded on concepts of holistic healing & wellness.
Start With The Right environment
---
Environment is important. Recognizing our innate connection with the environment, we offer a Yoga environment that is unique and an experience in itself. A clean tranquil space located in the heart of a holistic and all natural spa our Yoga space offers an outstanding atmosphere. Based on our holistic & eastern spa concepts, our Yoga program has been different from the very early stages of its inception. Our Yoga program is a perfect reflection, and compliment to our core concepts of natural healing, inner beauty, and balanced living.
Small(est) Class Sizes
---
We take great pride in our small class sizes - something not found in any of the area Yoga studios. Our class sizes are offered to a maximum of 10 practitioners at a time - averaging 5 people for most classes. To gain the most benefit from these ancient arts, we truly believe it is best delivered in small class sizes - and it's evident in our unique approach. We believe a Yoga and Meditation class should not be a 'mass' seminar, but instead a gathering of small group of individuals. The small class sizes also makes it possible for our highly qualified Yogis to give attentive and one-on-one care to each practitioner. This is the way Yoga and meditation was practiced thousands of years ago in India and in a few remote places today; and this is what we are recreating at AuM today.
Outdoor Yoga
---
Start your morning off right with a breath of fresh air along with the first rays of the Sun. Invigorate your body and mind in a calm and soothing way and let the balancing energy of Yoga and Meditation flow into the rest of your day. When you start your day off right, your whole day indeed is headed in the right direction - most value creating direction that you intend.
Free Guided, Daily Metitation Classes
---
Raise your consciousness and begin a path of self discovery. Discover & experience first hand what western sciences are just starting to uncover - the numerous benefits of this ancient eastern discipline, from gaining a better emotional and mental balance, to better physical health. In our commitment to return to the basics, we are proud to offer free daily guided meditation classes - open to everyone without any conditions. While the practice is as simple and natural as breathing, those who incorporate it into their life styles gain many benefits unrivaled by any other practice or discipline. For those who master the basics and seek higher states of consciousness we also offer more advanced meditation courses.
A great Mediation & Yoga program wouldn't mean much if it wasn't easily accessible to everyone. So we made sure it is. With free daily meditation and introductory Yoga classes for just $5, everyone is invited to come discover Meditation and Yoga the way it was meant to be.